Industry:
Banking
Client:
Arthur State Bank
Arthur State Bank was founded in Union, South Carolina – a small town with a big community spirit. The bank is intertwined with this sense of community, which has allowed it to expand throughout South Carolina without losing its personal touch. For these 80+ years, the bank has remained rooted in these values as it grows and thrives. Now, there are 19 Arthur State Bank locations across the state of South Carolina.
Goal
It was a very simple desired outcome needed for this client; to create consistency, with consistency comes a managed perception, purpose, and stability. After months of discovery sessions, it appeared that the value of the business offering was way higher than the perception. The general consensus in the community was one of 'no idea who they are'.
The goal became very obvious; instill some confidence and create some valuable areas of high recall.
Discovery
Months of internal and external communications gave me all the tools and direction I needed.
My first challenge was to find a way of keeping as much of the history intact whilst making Arthur State Bank current and relevant.
Positioning
As part of my discovery, I took the client through a message map exercise; in this exercise, I look to uncover some of the core values that may be hidden or underutilized. I work very closely with the client (in some cases, live workshops) to identify their core 'Pillars of Strength' these pillars are the foundation for everything that they stand for and the reason they exist.
After we have established these pillars, I ask them to prove them. It's very easy to say 'we are Future-focused', if you believe that to be true, it should be very easy to show me WHY.
Logo
There's a reason "putting a face to a name" feels like a significant step in getting to know a person. Names identify; faces express.
A good logo does much more than identify a company; it identifies a company's story. In this regard, the new brand mark will be the face that expresses the sentiment, values, and mission behind the name, Arthur State Bank. Not only will the mark spark brand recognition and recall, but it will also convey the strength, stability, positivity, and confidence that we want people to associate with Arthur State Bank. From driving by a brick-and-mortar location to paying with an Arthur State Bankcard, the brand will be a consistent, poignant, and recognizable reminder of the values we stand for.
We know that everyone has a unique set of experiences that define their reactions and interpretations of the world around them. One person's favorite color may be someone else's least liked. However, beneath these individual interpretations lie strong culturally accepted associations, like our collective understanding of red to mean "stop." Arthur State Bank's brand mark draws on these deeper, culturally universal associations to tell a story that resonates with people of different backgrounds, locations, ages, and walks of life.
Business Cards
Sometimes, and especially in the banking community, a business card is the first interaction with the brand, it is important to be simple and clean.
Print Collateral
These pieces are very important, especially for a community bank – the customer base still enjoy visiting the bank, therefore, having collateral that is readily available, easy to digest, and quick to identify is very important to the building of equity within the new brand.
Signage
As part of the whole brand experience, it is essential that Arthur State Bank customers (existing and new) are immersed in the brand; from pulling up in the parking lot, speaking to a bank teller, to checking their account online… Consistency is critical.
Billboard
As part of the launch campaign, we developed a full media plan for billboards, radio, TV, and social. For the billboards, it was important to keep the message simple and clean, with no need to overcomplicate it for fast-moving traffic areas.
As part of the project, I was commissioned to increase social awareness/engagement. Using all the available social channels I created a brand campaign that echoed all of the other material. The goal here was to reintroduce the brand and services that the bank offers to those that may have forgotten about the bank, left the bank, or the net new that had no idea the bank existed.
The second exercise was to promote specific services to a very targeted demographic. This was achieved using a variety of different media. Radio, YouTube bumper ads, long-form ads, TV commercials that can also be used through social channels, and 100s of one-off social ads that had very different but penetrating messages.
Web
A fully responsive site, built-in WordPress, with access rights given to the Arthur State Bank point of contact so that regular updates could be made. As part of this exercise, we needed to develop an online presence that was not there before, by doing so we engaged a new set of audiences that are 'mobile-first' bankers.
In the words of the bank tagline that we created 'Working and Thriving Together,' it was important to design the site with a 'people first' vision. Creating a humanized site with images of everyday people doing everyday activities helped to re-establish the core essence of the bank… community.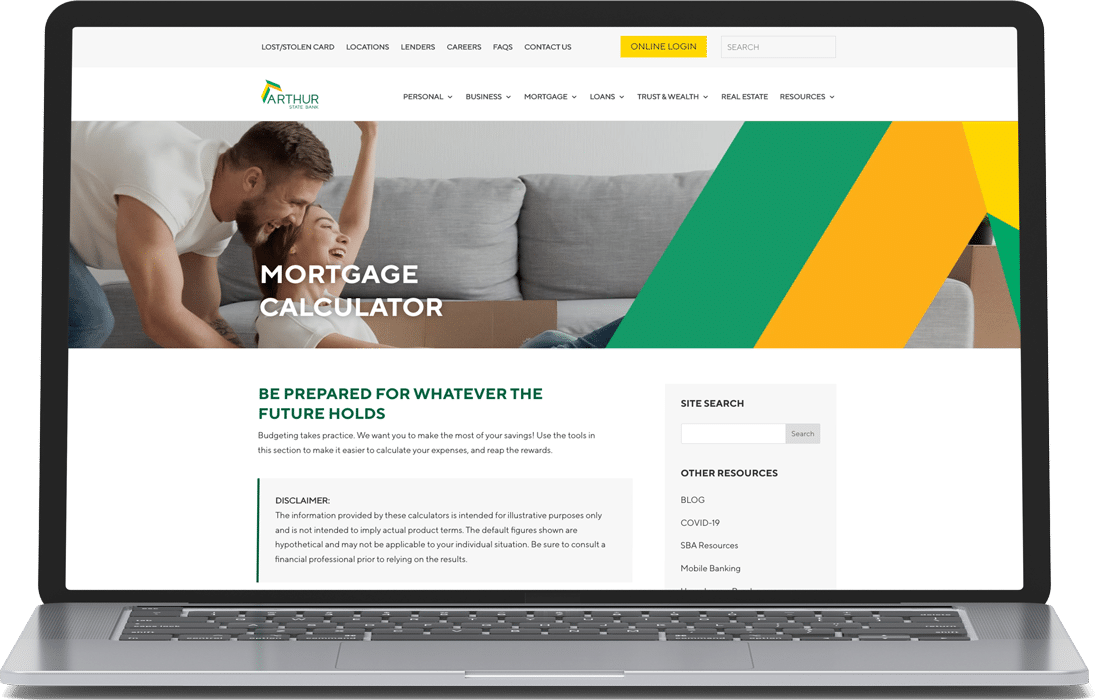 Radio
As part of the launch campaign, we created a persona that would help carry the message. Anna, a young girl growing up in South Carolina – this is a call out to the daughter of the owner of the bank, who is destined to be the owner at some point. The core sentiment of the radio and TV ads was to show Anna growing up with the core values of the bank, all the way through to her leveraging the bank for her own life needs.